FootPrints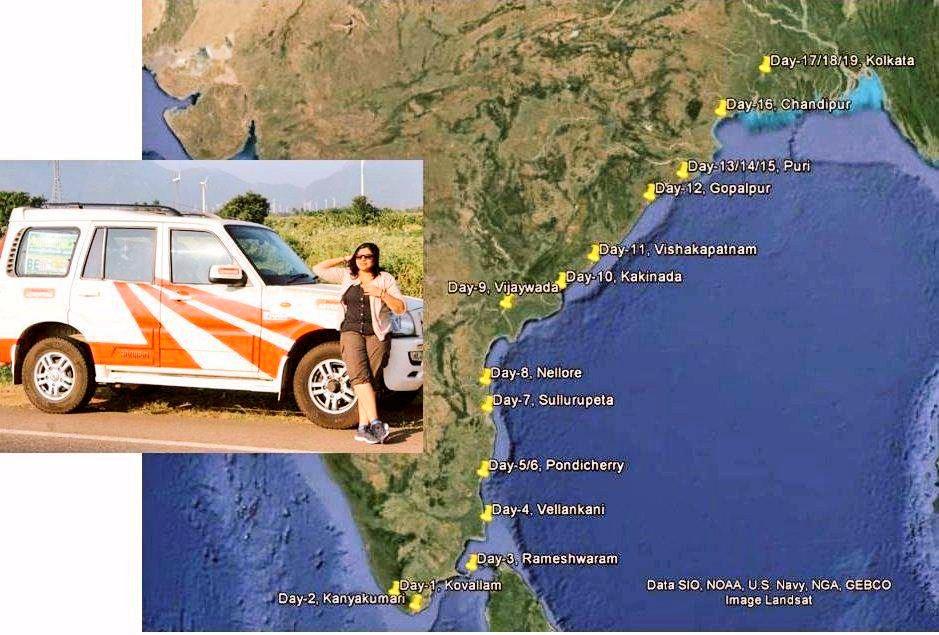 My Difficult Decision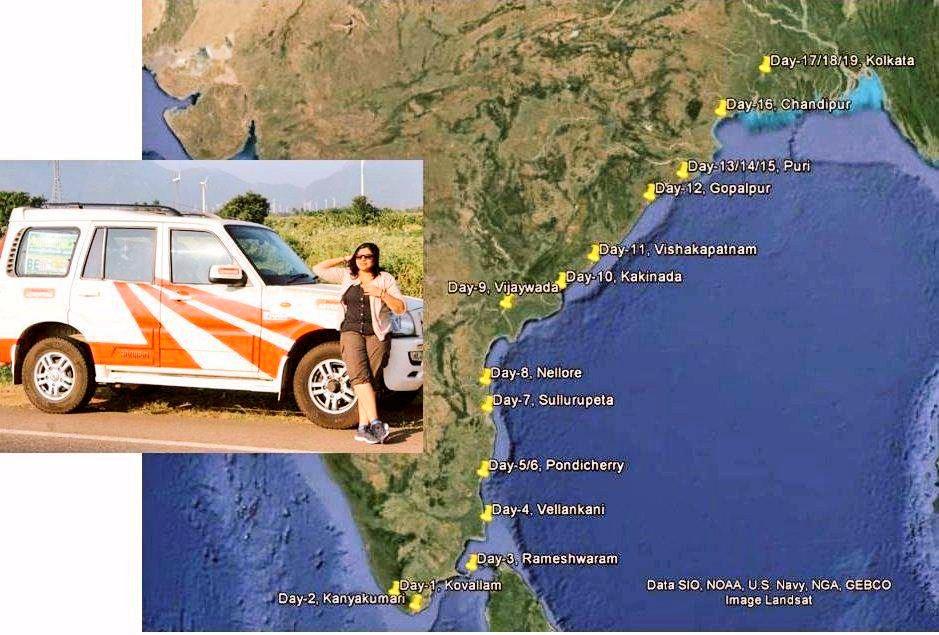 "I may not have gone where I intended to go, but I think I have ended up where I needed to be"
'It all started with a call from a friend.. '
I was busy and happy with my routine life.
And then I got a call from a friend asking me to be a part of a women's drive in the coastal side of India starting from Mumbai towards Trivandrum and then from there till Kolkata.
Now, this was something I haven't thought of even in my wildest dream and that too without my family and my eight-year-old daughter.
This was a difficult decision in my life.
I'm not being cynical here but only ladies and that too in a coastal side of India would mean umpteen number of risks and difficulties during the trip. But for some reason, I ignored all these negative thoughts in my mind and started looking forward to this thrilling opportunity.
As we all know 'Opportunity never knocks twice' Similarly, I didn't have any intention to let go of this amazing opportunity either. whereas, my family also supported me in this decision.
And from there the planning for the journey started. We had a meeting with the rest of the team and decided on the dates and the organiser disclosed the planned itinerary for our drive.
We all decided to divide the work and accordingly the tasks were given, like planning the route, working with and optimizing the route, making a what-to-carry list etc.
We contacted everyone from our friend list, especially those who could drive a car and approached them and asked them if they were remotely interested in joining us for the trip.
Everyone was from a different circle yet shared the same zest about the venture.
And then there was me so my decision of going for the drive turned out to be part of a series of a difficult decision that came along with it. You might come across them when you read further.
In our team of ladies, we all were from different backgrounds and also of different age groups.
One lady in our group is a Mountaineer, then few of them are entrepreneurs, one including me is a writer, and one who has organised is a singer too.
This was the team. Seven, raring to go, women!
We were all set!
Our sponsorship for the car minus Fuel was organized by the Mahindra people. We all felt obliged to them as they provided us with a 'Mahindra Scorpio 4×4' for our expedition.
Five of them started their journey from Mumbai. They travelled with the Coastline towards Goa then Karnataka then Kerala and reached Trivandrum where I committed to joining them, as I was wishing to travel the east part of Coastal India.
I was all set. All bags were packed. Each person is carrying one big bag and one small handbag. That was one of the ground rules. So I stuck to that notion of travelling and left Mumbai alone for Trivandrum.
One more difficult decision. As I wasn't sure whether they were going to pick me or not. But two of them came to pick me up at the airport and we all reached the place where the rest of the ladies were living. I was welcomed by everyone. When I reached there, One of the ladies was shaving her head which was a cultural shock for me I was a bit taken back for a while and I thought I'm among some Hippies. The place was ok but the construction seemed new. But despite all these thoughts and things, I came across I had a very clear vision of my decision and was ready to adapt to anything and everything.
And from there my journey started.
We were five ladies again as one left from Trivandrum who was only for the Western part of India on this journey.
Among us, only three of us would be driving as one is not allowed due to her leg injury and the other has not learnt to drive. So my turn for driving started on the first day of my arrival itself. Which was an amazing experience. As sitting still would have been boring is what I felt.
'What a ride it has been so far.
Beautiful coastal roads…
Some layered for miles with trees!
Some layered for miles with bright-coloured houses!
Some layered for miles with nothingness!'
I thoroughly enjoyed the driving then the halts the scenic beauty on the way and also these amazing Co-travellers of mine.
'For long stretches, the roads were cratered and for a few stretches the roads were smooth!'
Our accommodations were already booked for our everyday halt and accordingly, we use to start our journey towards the Eastern Coastline of India every day.
Starting from Trivandrum we headed for Kanyakumari followed by Rameshwaram, Vellanki and then Pondicherry.
We had a halt in pondicherry which followed with the news that two of our ladies' co-traveller are leaving back home.
Initially, after a lady who was supposed to leave from Pondicherry, we were supposed to be four and then after Vijayawada, one more companion would have joined us. Which makes five who will stay till the end of the journey. But all of a sudden the scenario changed. There are just two of us left for the next two days. Just me and the one who organised this trip. Now at this moment for a while even I was shaken by that, shall I call the trip off and return home? Or continue the expenditure? But then it's been just five days out of my 19 days planned tour. It was a difficult decision for both of us. But eventually, we made up our minds and thought of continuing the journey by keeping a low profile at least till the third Co-traveller joins us. Which was a high risk but for some reason I was mentally prepared to face the consequences. Hence, I was feeling bad for my other friend as she was the organiser and backbone of the team, she was a bit nervous and worried. Which was considered. I assured her that "whatever happens I'm not going to leave you even if you send me, I won't be going back"
And we continued the journey after Tamil Nadu we headed towards Andra Pradesh.
The infrastructure was wonderful and also the people we met were all so helpful. Hence, Vijayawada our third partner joined us. Which added a new zeal to the trip now we all were of the same age and almost the same mindset.
Then the journey was set as we now knew however we've started we three are going to stay till the last leg of our adventure which is going to end at Kolkata.
We visited some amazing places during our journeys like 'Vivekanand Memorial in Kanyakumari', 'Rameshwaram temple at Rameshwaram'., 'Vellanki beach', also 'Danish Fort at Tranquebar', En route Pondicherry. 'Auroville and Aurobindo Ashram in pond cherry including the beautiful beach there. Also 'Pulicat and Sullurupeta Birds sanctuary' followed by 'ISRO Center at Shriharikota' on the way to Nellore. Then Vijayawada and Kakinada followed by Vishakapatnam, where we visited the beautiful 'Simhachalam temple and also explored the beach there. We had our first halt in orisa at Gopalpur and After that Next long stay was in Puri where lord Jagannath resides. Around Puri we explored the 'Konark sun temple', and The Craft Village 'Raghurajpur' and also visited 'Chillika lake' filled with Migrated birds and wonderful Dolphins. We also saw the unique beach of Chandipur and reached Kolkata. Returned the car and made the most of our time in Kolkata. Which was memorable with the places like 'Kaliaghat, Victoria Memorial', authentic cuisines and authentication of the city itself.
I feel lucky enough that I've decided to go on this trip and proved to so many including myself that no decision is difficult if you have the strength and willpower to face it and come out of it as a winner.